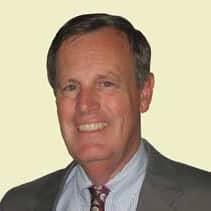 Donald W. Hance, EA, CFP®
Mr. Hance has been providing financial advice to both individuals and small business owners for nearly 45 years. He served as Vice President at Union Bank of California for 14 years and as Senior Vice President at Wells Fargo Bank for 20 years. During that period, Mr. Hance held a variety of positions, including managing four different full-service bank branches in the Los Angeles area, managing a region of 20 branches and 400 employees, supervising a Priority Banking department for high net worth clients and overseeing the bank's small business marketing efforts. All of these assignments allowed him to work with hundreds of clients over the years… with the primary objective of providing the best financial solutions to each one.
In 2007, Mr. Hance founded Glenmore Financial, Inc., a fee-only financial planning firm located in Pacific Palisades. The firm specializes in working with clients by providing customized, comprehensive and holistic advice to help each client achieve their unique definition of financial success. As an independent registered investment advisor, Mr. Hance is not limited to the products offered only by one firm – rather he can use the entire universe of financial products and allied professionals to create the best solutions for each client's needs. And, as a "fee-only" financial planner, he promises to place each client's interests first. As a result, there are no sales of products that result in commissions or other rewards – forms of compensation that create potential conflicts of interest.
Mr. Hance is a member of the National Association of Personal Financial Advisors (NAPFA), a 1,700 member national organization committed to providing fee-only financial services. He is also a member of the Financial Planning Association (FPA), the largest organization of financial planners in the country. Mr. Hance serves on the Board of Directors of the Los Angeles Chapter of FPA.
Mr. Hance has been a CERTIFIED FINANCIAL PLANNER™ since 2001. He received a Professional Designation in Personal Financial Planning from UCLA in 1999 and has been a California Tax Education Council approved tax preparer since 2003.
Mr. Hance graduated with an MBA from Pepperdine University in 1977 and a BS degree in Finance from the University of Southern California in 1975. He is also a graduate of the Pacific Coast Banking School at the University of Washington.
Mr. Hance is a 33-year resident of Pacific Palisades. He, and his wife Barbara, have three children: Donald, Jr., a graduate of USC and president of LifeSighted; Douglas, a graduate of Georgetown University and the University of Virginia School of Law; and Catherine, a graduate of USC. His hobbies include watching sports (especially USC football), reading (especially investment and finance publications), and playing paddle tennis at the beach.
Think we might be a good fit for you?
Let us know how
Life
Sighted
can help.